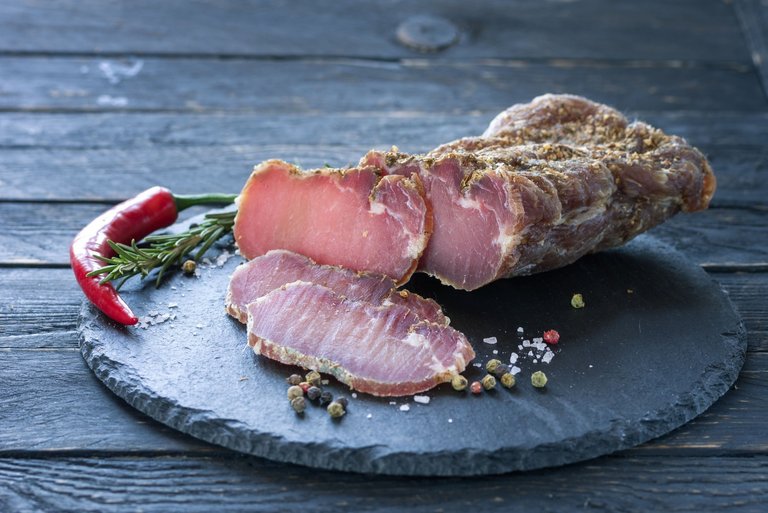 Enjoy the scent and taste of local delicacies!

Visit the Natura Slavonian shop at Supernova Zadar and enjoy the local delicacies
Come and enjoy the smells and colours of dried and smoked meat at the stand of the store Natura Slavonika situated in front of the entrance to the Spar store in the Supernova Zadar shopping centre.
Our friendly staff at our stand situated at the western entrance to the shopping centre will help you choose the best products for you from a wide array of honey, juices, cheeses, eggs and sausages. Enjoy the flavours of summer throughout the year with our preserves packed in glass jars – paprika, pickles, pickled salad, beetroot or ajvar, a pepper-based condiment made principally from red bell peppers and oil. To fight off a cold or flu and remain healthy, choose between acacia honey, lime or chestnut or meadow honey which are best served in rosehip tea.
No soup can beat a good bowl of soup with homemade noodles which we offer on our stand along with homemade pasta. You can choose between green or wide noodles, bow or tiny pasta noodles. Combine the pasta with a delicious garlic sauce and enjoy the delicious flavours. We offer quality and professionalism and are looking forward to seeing you on the ground floor of the Supernova Zadar shopping centre at our store Natura Slavonika. Enjoy your treats!
The traditional domestic Slavonian products that is difficult to resist
The rich plains of Slavonia give the exquisite domestic produce that is difficult to resist. Bathed in the sun, the fields are abundant with healthy fruits and vegetables that you can enjoy on your table in the form of preserves, jams or juice. The store Natura Slavonika offers such natural domestic products.
Lovers of cheese will have a hard time choosing only one type. Škripavac cheese, goat or cow cheese, cheese with paprika or herbs will provide a pleasure to your palates. If you are a fan of dried and smoked meat, you are in the right place.
Kulen, sausages, hunter sausages and other delicious treats made of dried meat will delight you with the smell and taste. Hot, or with a little more paprika, the secret recipe for sausages will not be disclosed to you but if you visit the stand of the store Natura Slavonika you will be led into the secret world of excellent food. If you like pork scratchings, you can choose between those pressed thin in the form of chips or enjoy the little fatter varieties, made in the Slavonian way.
The traditional domestic Slavonian products also include bacon, dried ribs and bones that are a must when preparing a delicious sarma or bean stews. Find all this and more in the Natura Slavonika store and taste the domestic products from different parts of Croatia.